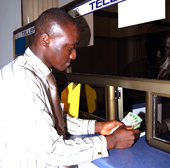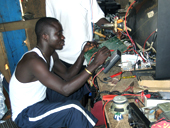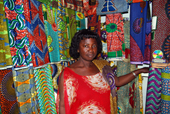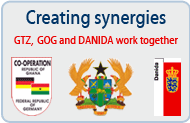 Business Development Services
The Tourism Sector
Tourism is a rapidly growing industry in Ghana. The sector reports a steady growth, recently, from 981 million USD turnovers in 2006 to 1,3 billion USD in 2007 (20 percent increase). The sector ranks fourth among foreign exchange earners and according to Ghana Tourist Board study dating from September 2007, it employs almost 400.000 people directly or indirectly. It is the most dynamically developing sector of the country. The sector contributes with more than 4 percent to the Gross Domestic Product in 2008.
Connecting Ghana to the World
SPEED supports tourism development to enable local tour operators to better fulfil their function as intermediaries and to diversify the local offer as well as support for policy development. In close cooperation with Ghana Tourist Board (GTB), the Tour Operators Union of Ghana (TOUGHA) and Ghana Tourism Federation (GHATOF) SPEED aims at linking international markets to the tourism sector in Ghana and to improve the establishment of local networks of small service providers as well as the soft and hard infrastructure for better delivery of quality services.
SPEED works together with its partners on the development of the national tourism promotion by supporting participation at international trade fairs. Ultimately, TOUGHA and GHATOF will have capacity to manage a newly developed feedback system. This included in practical terms participation at the World Travel Market in London as well as participation at an international tourism fair in China in 2008. Participation at the worldwide leading tourism fair the "Internationale Tourismus Börse" (ITB) in Berlin is earmarked for 2009. All these activities help to develop the capacity of Ghana's tourism sector to become internationally competitive. The payoff is particularly for small companies who can find better and more clients. They do not have the means for seeking customers abroad or to hold up the flag of Ghana's tourism in the international community.
Finally SPEED also focuses attention in the development of Ecological Tourism and started to work with the Ghanaian NGO "Nature Conservation Research Centre". In this area SPEED mainly supports the development of Ghana Rural Ecotourism Travel Office (GREET). The Nature Conservation Research Centre manages that office. Currently GREET cooperates with 14 communities. While managed by Nature Conservation Research Centre GREET is supported and supervised by many stakeholders. SPEED supports the office in terms Human Resource Development and by providing technical infrastructure. The Human Resource development comprises areas like marketing of tourism, quality management and customer care.
Strengthening Tourism at the National Level
B2B and B2C Business Portals
This is a comprehensive webpage owned by Touch City Tourism (TCT) accessible under www.ghanatourismbusiness.com It serves as a B2B platform for all kinds of services. The Portal is mainly addressing Micro Small and Medium Sized enterprises and creates an information database with data that are centrally collected validated and maintained.
Similar to the tourism online platform, SPEED has also facilitated the creation of a similar platform for Business Development Service Providers. This platform can be visited under www.tradenet.biz/asnapp The ASNAPP electronic trading platform (www.tradenet.biz/asnapp) supports some 10,000 collectors, 400 agents and 30 exporters in the raw botanicals export trade as well as the herbal medicines sector:
Providing direct linkage between sellers and buyers
Allows direct communication via the website and SMS
Allows the posting of offers to both national and international markets
Provides a cheaper way to advertise and an opportunity for the sending of multiple SMS cheaply among association members.
GIMPA Hospitality School
A booming tourism sector needs up-to-date training facilities. SPEED supported the development of training facilities through the support of a feasibility study in optimising the institutional landscape in particular the merging of the Hotel Catering and Training Institute (HOTCATT) and the Eastern Region Development Corporation (EREDEC) Hotel with the Ghana Institute of Management and Public Administration (GIMPA). Next to the support of the institutional reform SPEED helps in developing needs oriented vocational training and qualification of mostly lower level professions in the touristic sector (non-management level) This includes the development of modern curricula and syllabi in line with international requirements and standards.
Partners
Ghana Tourism Federation ( GHATOF )
Tour Operators Union of Ghana ( TOUGHA )
Ghana Tourist Board
Ministry of Tourism and Diasporan Relations (MOTDR)